One thing I like about writing software reviews is I never know what I should expect. It happened I reviewed pretty mature applications but there were also some startup products on rather early stages of development. It's like a box of chocolates… And ProjectPlan was much a surprise for me.
The first surprise was at the very beginning – ProjectPlan is a desktop application. That's so 2000. On the other hand I'm yet to see web app which deals well with usability when it comes to create project schedule so it doesn't have to be a good idea.
ProjectPlan is exactly what it name tells you – a tool for creating and tracking project schedules. There isn't much more really.
Strengths
And there comes the hard part. When application is small and deals with just one issue it should better to the job well. Then reviewer has some hooks to use when praising the app. Unfortunately ProjectPlan makes the task pretty difficult.
The application's main functionality – creating project plan – works fine. If I get this in web-based app I'd be totally happy. That's by the way a nice goal for vendors of project management software: give us convenient way of creating project plans in web based apps. Take MS Project, check how they do it and mimic it on the web. I'd love you for that.
Coming back to ProjectPlan, interface is nice and there are no problems to start working with the application. Except of one thing (percent complete column is hidden in default view) I had no problems with finding any option I needed.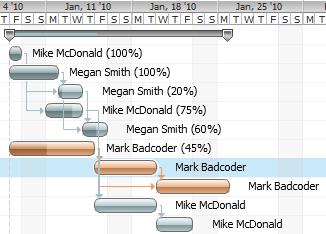 The problem is as soon as you start working with ProjectPlan it's time to come to the next part of the review…
Weaknesses
Oh so slow
I work on crappy netbook. I know. But I won't buy another machine just to review software. ProjectPlan run on netbook is somewhere between choppy and unusable. It becomes frustrating to wait with many operations you do for the application to catch you. Navigating through a task list becomes a pain in the ass since you're few moves ahead the application.
I guess on a standard notebook or desktop ProjectPlan would run smoothly, but to be honest – for such a simple app there should be no problem whatsoever to run it on 10-year old PC, let alone new netbooks.
Resource management
ProjectPlan don't have resource management. But creating a project plan without adding a resource to a task would be, well, I don't know what but definitely not creating a project schedule. So there it is a substitute of resource management which is done completely wrong. You can't just type in names – every time you choose a resource column popup appears where you need to check the right person. Copy & paste doesn't work. There's no filter on resource which is single most important view on project plan if you ask me. This one is screwed.
Cooperation
There's no support for cooperation. ProjectPlan is just desktop stand-alone app. No interface for people to update their tasks whatsoever. Did I say that's so 2000?
Limited Functionality
There isn't really anything more when you're done with creating your project schedule. You can update percent complete but you have to do it alone. There are also import/export features which makes it possible to move the project plan from and to MS Project. But to be hones if you have MS Project installed you won't need to use ProjectPlan.
Summary
If I needed limited functionality I would look for something web-based. If I needed to create very complex project plans I'd look either for something web-based but feature-rich which would import all the details of the plan created in MS Project or I'd go for MS Project Server installation. ProjectPlan doesn't suit anywhere here at the moment. It's like trying to catch MS Project starting in 2008. Not possible.
A niche which I see around is a simple tool which allows quick and easy creation of simple project schedules which are then exported to some web-based tool. But ProjectPlan is still pretty far from that. Especially in terms of usability there's much work to do. Let's hope guys working on ProjectPlan will push the application toward this goal.