First edition of Lean Kanban Central Europe conference is history. I was really looking forward to be there although there's always a bit of doubt whenever you think about the first edition of the event. Anyway lkce11 definitely lived up to my expectations.
Organization
I'll be short here: kudos for Arne, Bernd and the rest of it-agile folks for making it happen, and doing it big time. I mean, of course there was a bunch of glitches you could have complained on but first, it's impossible to avoid all of them and second, overall, you don't even remember about them when you come back home.
In other words, whenever you see these guys organizing such event rest assured it will work as a good German machine. After all, they're Germans, aren't they?
One lesson any conference organizer should definitely take was session chairs. A group of people who were introducing speakers, gathering feedback, running with microphone when questions were asked, waving crazily when speakers were going out of time etc. We shared this responsibility among a group of people so it wasn't that painful for me. And from a perspective of a speaker I can tell you it's hard to overrate such help.
Content
At the beginning a disclaimer: I was a member of the board which means I feel responsible for how program looked like.
I believe we did a decent job putting the sessions together, focusing on experience reports and bringing great keynote speakers, however I got one very important lesson in terms on conference content. My expectations as a part of the audience have shifted toward advanced content while at big events, such as Lean Kanban Central Europe you need to cover more basic content as well.
It means that I need to look at the program through the eyes of the target audience, not only through mine. It looks that there already are two types of events for me: these where my focus is more set toward sharing my knowledge and those where it'll be set more to learning.
Basing on reactions on Twitter the mixture of basic vs. advanced and theoretical vs. practical sessions was good. After all, we definitely don't want to disconnect people who are just starting with Kanban. At the same time we want some food for thought for people who already know the basics.
All in all, even though I think in a couple of occasions we could have chosen better, it wouldn't really be fair to complain.
A few highlights: both keynotes from guys outside of IT world (John Seddon and Stephen Bungay) were terrific. Not only were they top speakers but they also showed how much we can learn from other industries. Definitely eye-openers for big part of the audience, including me.
Interactive sessions (Kanban Konversation and Read Bead Experiment) worked great too. We need to have more of them next year. Yes, they're sort of open-ended but most of the time results exceed expectations. By the way: if you ever land on such session, volunteer to take active part and don't just sit silently in the audience – you will learn way more by active participation.
Networking
Because of my duties as session chair I spent many of breaks on housekeeping, but in terms of networking all the conference evenings worked miracles. Lots of exceptional conversations. Tons of food for thought. Constant challenges for my ideas and experiences. Not only did these discussions covered my hunger for more advanced content but vastly exceeded my expectations.
During presentations we sometimes sound as were dangerously close to dogma. However, whenever we we switch to two-way communication it seems that in reality we are rather reasonable folks, who are open for different ideas and opinions.
Let me just say this: if you don't engage speakers or other attendees during conferences you're really missing an opportunity and a big one. Networking brings such events to the next level.
And at Lean Kanban Central Europe networking kicked ass.
Wow Factors
Even though every event could live without delighters – things you don't really expect, but when you get them they're just great – it's always nice have a few of them.
At lkce11 one of such things was definitely gorgeous drawings of every session of the conference, which were reminding us about important messages we heard there.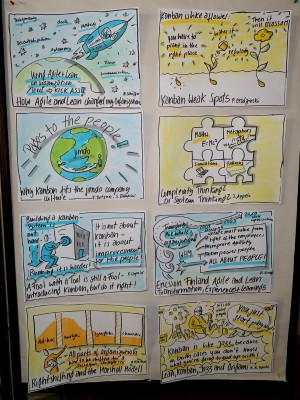 Another one, as I already told you, was inviting a couple of authorities from worlds different than IT. Definitely a great lesson for all of us who are totally focused on software industry.
Next one was chill-out area where you could recharge batteries of your laptop (power plugs) and of yours (deckchairs). And of course have great conversations. Have I already mentioned how important networking is?
My Session
Last but not least, my session. I can say that I'm really, really happy with the way it went. Actually, I was changing it almost to the very last moment basing on earlier conversations with Katherine Kirk and Bob Marshall (thanks once again for your feedback). It wasn't recorded so if you weren't there, you missed it, sorry.
OK, since I'm happy with the session chances are good I will deliver it again if there is occasion (hint: you can create one).
As I believe the subject of risks connected with implementing Kanban is super-important I will definitely write a separate post dedicated to the session itself. However, as always, if you've been there, please rate the session and leave feedback.
Final Thoughts
If you need a final recommendation for future Lean Kanban Central Europe events, first think about the content, because this was a big differentiator. Average level of sessions was way more advanced than on every agile event I took part in, and I hope it'll stay the same. If you think about one big event you can afford every year then mark October in your calendar. Especially, that you should be able to cover basics at more local agile events which definitely are organized, wherever you live.
If you look for occasion to see your mind blown Lean Kanban Central Europe is a right place to go.