A series of Lean Kanban conferences has just ended. There were three of them in 10 days: Lean Kanban France, Lean Kanban Central Europe and Lean Kanban Netherlands. Together, they earned the name Lean Kanban Europe Tour. I couldn't make it to Paris, so I attended, and spoke at, the last two.
First of all, I think the idea of the tour is a very good one. People tend to travel less and less to attend different events, so having a few good events in a row makes it easier to get great speakers, especially those travelling from the other side of the world. As a result the lineup of every event was really good.
I guess that writing two separate posts about each event would be better for readers considering attending one of them next year. The problem is this experience for me is sort of indivisible so there will be only one, merging impressions from the part of the tour that I attended.
Lean Kanban Central Europe 2012
It all started with a flight to Vienna. In terms of organization the event was just great. Not that I'd expect anything different from Arne and Klaus, but kudos to you guys. You rock. All these details you care about, like room names in an elevator, or a conference program in a badge, or a magician during a party, these really make you smile.
They wouldn't rescue the event if basics were screwed up. They weren't. Everything worked like a Swiss watch.
I shouldn't praise the program much, as I was the part of the program board, but it was great. It was just the right mixture of keynote speakers, who shared their deep knowledge from different fields, and a bunch of great folks one could always learn from. In fact, if I had to complain about something it would be that sometimes the choice among tracks was just impossible. Choosing between Benjamin Mitchell, Jabe Bloom and Markus & Arne? This just can't be done right. Great to know everything was recorded.
I've heard that there were a couple of sessions that weren't received that well, but my impression was that there was a visible improvement since the last year.
Then there was a party. Let me share with you a piece of advice and a secret. The advice goes like this: if there is a chance to attend a party during an event, even if you have to pay for it, just go there. It's your best opportunity to approach speakers and discuss your ideas or problems with industry experts.
Now, the secret: vast majority of these guys are totally approachable and they'll eagerly discuss with you anything you might bring. The only thing you need is to go and talk to them. You just can't lose doing this.
Lean Kanban Netherlands 2012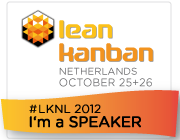 The last event of the tour was so similar and yet so different. Instead of an old building in a city center with frescos on a ceiling, it was in an old plant in suburbs with lots of industrial stuff still there. The Netherlands' event was smaller, but at the same time because of different venue, it seemed noisier.
From an organizational perspective you couldn't complain. Well, maybe the weather was too chilly. Obviously, this must be fixed next year. Anyway, even if not every single detail was polished, Lilian and Olav are definitely on par with Vienna folks.
The program in part was similar to the one from Lean Kanban Central Europe, including three out of four keynote speakers, a few more speakers and your humble host on this blog. At the same time, there was a fresh supply of new speakers too. One thing I've heard after the first day was that there were many different subjects covered and not only Kanban all over the place. Definitely a thing I'd like to hear about such an event. The Lean Kanban community isn't homogeneous neither should be Lean Kanban events.
There was a party too and it was so out of this world. Just imagine a candle-light dinner and stuff in the middle of a plant. Maybe round tables aren't the perfect setup for networking but again, catching speakers in the evening when they're all but in rush is a perfect occasion to exploit.
All in all, I'd love to take bits and pieces from both events and make it one. Except it may be difficult to find a factory, converted to a conference center, in the middle of a city, within a walking distance from a central train station, rooms with acoustic of small ones and space of big ones and all these great folks in one place. Of course everyone would be delivering their session twice just to make it less painful to make tradeoffs which track to choose. Wouldn't that be a hell of a conference?
Other impressions
There's also a part of the whole trip which is somewhere in between. All the evening meetings at hotel bars. Travelling along with other speakers while moving from one city to the other, e.g. being approached by Don Reinertsen at the Vienna airport just to have almost an hour-long follow-up chat on his must-see session. Being bombarded with ideas by people you respect almost all the time. There's no better way to learn.
Again, the lesson is: whenever possible use this opportunity. It is of course easier for fellow speakers to have such interactions, but you'd be surprised how easy it is to have a chat with published authors and industry experts.
Ah, and do yourself a favor and start using Twitter, unless you already do. It helps too.
My session
I intended to share the same session at both events. It didn't really go as planned. In Vienna I was speaking just after Don Reinertsen's keynote and Don covered the same topic – WIP constraints. This alone wouldn't be a problem as with all the theory and research Don refers to my experience stories should be sensible.
Unless a few things the keynote speaker shares totally fly in your face. Which happened to me in Vienna.
I didn't consider myself to have enough firepower to stand against such an authority, thus I had to answer the question: how my consistent experience can be linked to the ideas I was just exposed to. The ideas which, at a glimpse, seemed pretty unaligned with my stories. All in 10 minutes of a break between sessions.
Although I believe I answered the question and even incorporated the answer somehow into the presentation it was quite a challenge so the session might have looked a bit chaotic.
Fortunately, I had more time than 10 minutes before Lean Kanban Netherlands so I threw out half of the original presentation and focused more on building a bridge between my experiences and knowledge Don had shared. Here is how it finally looked like:
Summary
Neither of events was a cheap one, yet both were worth the price. I used to say I didn't expect epiphanies at conferences. Well, it seems I got a good deal of these on Lean Kanban Central Europe and Lean Kanban Netherlands. Don Reinertsen, Stephen Parry and Jabe Bloom, all altered my thinking in different areas. Thank you, guys.
I guess I couldn't give a better recommendation to attend Lean Kanban Europe Tour next year. Be it Lean Kanban Central Europe, Lean Kanban Netherlands or any other of them. It seems the next one is happening in Sweden.