It started with Twitter discussion. Then I followed with a post on standard Kanban board designs. Dominica DeGrandis added her perspective as well. By the way, there's one lesson I have to take from Dominica and from discussion on Twitter – we need to show people different Kanban board designs so they don't get fixated on a standard and just stick with it.
In the meantime I was selling Kanban to my wife, as we both believed it may help her in coordinating projects, which is what she does at her workplace. An interesting part is that she works in land surveying industry – something completely different than our everyday reality in software development business.
And after the discussion she comes back home and tells me that she has to show me something. It appears that it is a picture of her very first Kanban board. Out of curiosity I'm asking her about meaning of different artifacts on her board and it strikes me that she's done exactly what we want people adopting Kanban to do: she's used Kanban board examples I drew as, well, just examples. And then she's come up with her original design reflecting her own constraints, which are pretty different than in typical software projects.
First, the board.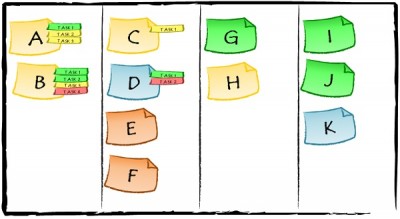 Now, that you ask, no, it doesn't seem like a "standard Kanban board" whatsoever. Where is the process? Where are the limits? If these questions are your first thoughts than you are fixated at least a bit.
You should rather ask how the process looks like. It's a bit tricky as for each big task there are a few stages. There are these which have to go one after another, but there also are those which can be done in parallel. In short: process isn't linear.
What more, depending on a task process can be built out of different stages. Imagine that for one task you do the whole production, from idea definition to deployment, for other you do only development, and for another only testing and deployment. OK, now you have an idea how it looks like. In short: process isn't homogenous.
So the basic idea is that process is defined per task. It can be safely assumed that project manager, or whoever coordinates the work, knows how to cope with each task. What is the role of columns then? Priorities! The old idea of classes of service. The closer the task is to the left side of the board the more important, or urgent, it is to deal with the task.
Different colors of index cards are used to mark different clients as it is somehow important.
Then, we have a trick, which I like the most. As process depends on a task it is defined on the fly for each task separately and represented by small stickies attached to index cards.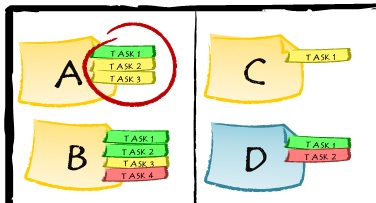 Stickies show stages, subtasks, you-name-it which have to be done to complete a task. Green one means the subtask is completed, yellow marks ongoing one, while red color is used for blocked work (which is sort of typical situation). Labels on stickies say what kind of stage/subtask it refers to. In other words they define the process.
Instead of defining complex graph of all possible states with dedicated Kanban board for each state we just add needed stages as we go. Isn't that agile?
Another nice thing about this board is how limiting work in progress can be handled here. We neither have old-school homogenous process where we limit number of tasks per stage nor dedicated boards assigned to different people where limiting WIP is done per board. However we can easily say which tasks/subtasks are ongoing: yellow stickies tell us that!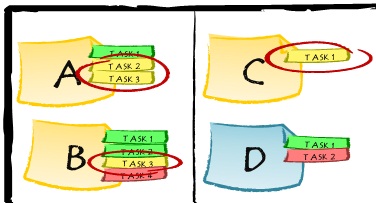 We can limit WIP by limiting the number of yellow stickies which are on the board. In a given situation it is actually something which comes very handy, as a number of people involved in doing work is changing pretty rapidly and limits can be adjusted on the fly depending on the current situation.
What I really like about this Kanban board design is that is addresses all the specifics of the situation in a neat way, yet it is perfectly aligned with all the Kanban principles.
And this is why I love to work on Kanban with people from outside of IT industry. Since their constraints are so different than ours they come up with fresh Kanban board designs as our standard solutions just don't work for them.
Advertisement: Want to have such nice Kanban boards in your presentations or blog posts as well? Check InfoDiagram Kanban Toolbox. Use pawelBBlog code to get $10 discount.