I've been working as a manager for the vast majority of my career. Teams I led consisted between a couple to 150 people, most of them being bigger than 20. Throughout that time I've had my own office once. And I don't think it's been a good idea.
I decided to move to the office as I didn't really see any reasonable setup that would work with a team spread across 40 rooms. It was then, when I first thought about the idea of sitting with one team for a week or two before moving to another office to join another team. I didn't decide to pursue the idea though.
The thing that kept me from doing that was the organizational culture. I was a parachute boss for everyone and the division hadn't existed before as a single entity, thus there was very little to no trust to me, or between teams.
If I'd popped one day in a random office stating that I'd been planning to sit in for a couple of weeks it would have been interpreted as spying on the team (or some other, more sophisticated form of repression).
Fortunately, this time the situation is different. The organizational culture in Lunar Logic is way more open. No one assumes that the boss has bad intentions. In fact, I've had first discussions with people being concerned about my actions just a couple of weeks after I joined.
It takes courage to go to your new boss and interrogate them about their plans and intentions. Such an attitude means that people voluntarily become vulnerable. It also sets up a completely different environment a leader acts in.
So this time I'm not going to have a private office, not a chance. After just a few weeks spent in a neutral place I fetched myself a flying office. What's that? A bean bag, a laptop table and a cardboard box.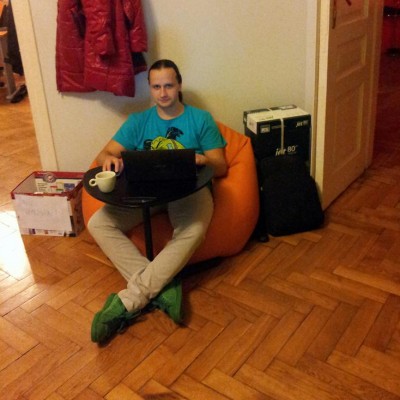 A bean bag works extremely well as a sitting device. It is extra-comfortable for short periods of time. On the other hand it would be painful, and unhealthy, to sit there for 8 hours. The latter reminds me that leader's place isn't on their butt but on their feet – running around, removing obstacles and solving problems.
A laptop table solves a problem with keeping a laptop on, well, you lap, which, despite its name, isn't the most convenient way of working.
And I use a recycled cardboard box to store all my office belongings, which is simply a handful of sticky notes and a couple of pens and markers.
This way I can grab my flying office to my hands and move it to the place where I'm needed or I feel like I can be helpful. I need just a bit of space in a corner or by the wall and done – a new office set up.
Surprisingly, sitting in the corner and almost on the floor has a few unexpected advantages . First, you need very little physical space, which means you will fit to almost any room (unless it is already packed beyond any healthy limits). Second, this way you become almost invisible, which definitely helps if your goal is to understand how the team functions, and not just scratch the surface.
Third, and arguably most importantly, you strip yourself from status symbols. Instead of a huge desk dubbed by your colleagues as the airstrip, a leather armchair and a locker just the simplest set that does the job.
All in all, you're way more accessible and much less intimidating. Isn't that something every single leader should strive for?
The flying office isn't only very mobile; it also renders quite a few barriers that leaders often face irrelevant. Bringing oneself to a floor level is a challenge for ego though, but I'd say it is a good thing too.
All you need to start it is just a bit of trust.
Honestly, I regret I didn't try it, despite the odds, when the only other option was a private office. I can hardly think of a different setup now, that I potentially have half a dozen more common solutions.
How about you? Given that your team doesn't work in a single room, are you courageous enough to try?