When I was starting my journey with Kanban on project portfolio level I based on a classic board design I knew from my work with Kanban within project teams. I basically tried to map value stream to the board but on a different level.
The effect was sort of predictable.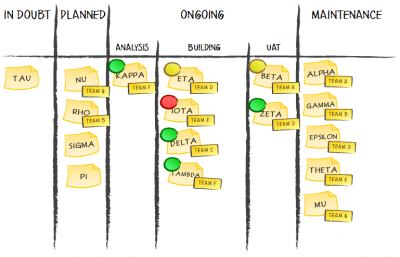 It was also naive.
The basic strength of such design is it's very intuitive. Well, at least for these parts of the world that read from left to right. The same way we read the board: whatever is closer to the right edge of the board is closer to completion. The value stream we map may be a bit simplified (as me make it linear) but then it isn't that much of a problem – after all index cards are flowing through the board pretty smoothly.
Unless you put on single index cards "tasks" that last a year or more, which is exactly what I have done.
When you're looking at very long lasting projects you look for different information than in case of several hour long tasks. It isn't that important how an index card is flowing through the board. After all you expect it to sit in one place for months. If you find out that the status of the index card has changed a few days late it likely isn't a problem at all.
It is way more important, and interesting at the same time, to see teams' capabilities in terms of undertaking new projects, i.e. how much more we can commit to our clients. Note: we aren't talking about a single team of 7 (plus or minus 2). What we have here is 100+ people working on a couple dozen different projects concurrently. At this level capabilities are pretty damn difficult to estimate, especially given ever-changing business surroundings.
This is a huge weakness of the common board design: it doesn't really help you with estimating free capabilities. It would help if we were able to set reasonable WIP limits on such board. Unfortunately, it is (close to) impossible.
A number of projects isn't a good candidate to measure WIP, as projects differ in size hugely. If you use time-boxing you could try using a number of time-boxes as a measure. However in this case you don't want to have a random team working on thirteenth iteration of a project that was build so far by the other team. With WIP limits measured by the number of iterations you would likely end up this way. Another idea was using money-related measures. This brings a question whether you sell all your work for the same prices. I guess that is true in very few cases and definitely mine is not one of them.
The longer I thought about it the more often I was coming back to people. I mean a team could start another project if they had some free people who could deal with it in planned/expected time frame. I even thought for a moment of setting base WIP limit around 130 (roughly a number of people working on projects represented on the board) and having each index card to weigh as much as there were people involved in a project at the time. The problem was the hassle needed to manage such board would be horrifying.
On the other hand measuring WIP in number of teams was way too coarse-grained as we had anything from multiple projects covered by a single team to multiple teams working on a single project.
All in all I ended up with a belief that, in terms of project portfolio Kanban, standard board design isn't a good choice. I was ready to redesign the board completely.
If I piqued your interest read the whole project portfolio Kanban story.